August 31st, 2016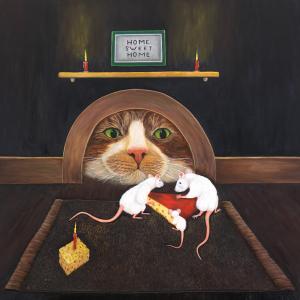 Three juried paintings of mine will be on exhibit this Friday, September 2, 6-9 pm, at The Cornell Museum's September Art Walk. The museum will feature artwork by the Delray Art League. Stop by the museum to view the exhibit, enjoy some wine and light bites, and then continue on to the rest of the galleries in Delray! First Friday Art Walk is an open house hosted by the art galleries in downtown Delray Beach.

Cornell Art Museum at Old School Square
51 N. Swinton Ave. Delray Beach, Florida 33444

Enjoy an evening of art, education and relaxation in this award-winning Arts Town!

Welcome to Downtown Delray Beach's First Friday Art Walk program! This self-guided tour and year-long event invites you to explore the heart & soul of our art scene on the First Friday of every month. Enjoy art galleries and working studios while you meet with many talented, local artists. Stroll and enjoy beautiful evenings in Downtown Delray as you navigate your way through myriad styles of art. The Art Walk features three artistic areas; Atlantic Avenue, Pineapple Grove and Artists Alley.

This is a FREE event (no ticket, pass, coupon required) - just show up and start wherever you'd like! Don't forget to use #DelrayArtWalk when you share your Art Walk photos on Facebook, Instagram or Twitter!

Check out First Friday Art Walk Brochure for more details.
July 4th, 2016
Award winning artist Karen "Zuk" Rosenblatt has many talents and a great sense of humor! Music  and art are her passions as well as….. cats! Her charming portraits of cats playing MahJongg or eyeing a fish bowl will surely bring a smile to your face.  The public is invited to see her exhibition at the Friends Art Gallery located in the Spanish River Library & Community Center in Boca Raton starting Sunday, June 26 through August 13th. The Rickie Report shares some sneak peeks and the details.  This exhibit is Free and Open to the public.  
 
 
Friends Art Gallery
Spanish River Library & Community Center



Featuring:  Karen "Zuk" Rosenblatt
 
June 26 – August 13, 2016

bocalibraryfriends.org
1501 NW Spanish River Blvd. Boca Raton, FL 33431
561.393.7852
Free Exhibit
Hours:
Monday-Thursday 9:00 a.m. – 9:00 p.m.
Friday & Saturday 9:00 a.m.-6:00 p.m.
Sunday noon – 6:00 p.m.
 




"Ladybugs and Cat" by Karen "Zuk" Rosenblatt,  
 

 


"Meow-Jong" by Karen "Zuk" Rosenblatt
 
 
Karen tells The Rickie Report, "Until about 10 years ago I was painting mostly landscapes and animals. Although I enjoyed the subject matter I needed a niche that would set my work apart. I asked myself what is it that I love to paint and never tire of. The answer was "cats". I find them truly mesmerizing, magical creatures. I never have far to look for inspiration. Ideas come to me as I watch my own cats and just let my imagination loose as I am continually charmed by them".
 
 


Karen "Zuk"Rosenblatt, "Siam I Am"
 
 
Karen Rosenblatt, a former pianist and teacher, transitioned to art after a strained finger forced her from the concert stage. "I can say that the creative spark finds a way to go on… Just let it burn". Her father, a commercial artist/illustrator, passed on and left her his supplies. She took his signature ("Zuk") a shortened version of the family name ("Zukoff") and began her journey.
 


Karen "Zuk" Rosenblatt  "Mouse House"
 
 
After studying various mediums she entered her first art show and won First Place in Oils. A new career was born! She also studied Advertising Art and Design at SUNY and began doing pen & ink renderings for real estate ads, magazine illustrations and pet portraits.
 
 
 


Karen "Zuk" Rosenblatt "Catatonic"
 
 
 
 
Karen has had one-woman shows, exhibits in galleries, museums, outdoor shows and online venues. She has won awards in watercolors, oils, pastels and photography and her work is in collections worldwide.  Memberships include The Delray Art League and The Artist's Guild of the Boca Raton Museum of Art (Signature Member and past Executive BOD).
 
 


Karen "Zuk" Rosenblatt "Mirror Mirror On The Wall"
 
 
 
Although most of her work is realistic she enjoys adding a bit of humor (realism with a twist). Animals (especially cats) are her favorite subject, and her hope is that people who see her work will be inspired to treat them all with kindness and dignity.  "I soon realized that my love for cats was the constant evolving inspiration for most of my work. I particularly enjoy sharing their beauty, mystery and whimsical nature".
 
 
 

 

Karen "Zuk" Rosenblatt  "Kinship"
 
"In her meticulously constructed paintings, Karen presents the viewer with the zany and mischievous world of cats. While her playful perspectives are amusingly distorted, the narratives created are refreshingly familiar. Her painting demonstrates the artist's true ability to capture exciting concepts. It strays from an adherence to the pseudo-reality of photographic work and dashes into the realm of the artist's imagination".
 
 
Awards:
Made In China – First Place – Artists' Guild Gallery
Made In China – Honorable Mention – Delray Art League Autumn Showcase
Mouse House – First Place – Living Room Theater
Siam I Am – First Place – Wyndham Hotel (Boca Festival Days)
Ferret and Friends – First Place – Living Room Theater
Mirror, Mirror On The Wall – Second Place – Living Room Theater
Catatonic – Third Place – Delray Art League Winter Interlude
Catatonic – Honorable Mention – Boca Raton Community Center
Catatonic – Honorable Mention – Living Room Theater
Catatonic – Honorable Mention – Ocean Ridge Town Hall
Dragonfly and Cat – Third Place – Living Room Theater
Eye to Eye – Special Merit – Light Space Time Gallery
Everglades Evening – Honorable Mention – Living Room Theater
Loxahatchee Sunset – Honorable Mention – Loxahatchee Visions Art Show
Simon – Honorable Mention – Artists' Guild Gallery
 
 
 
 
 
For More Information about Karen "Zuk" Rosenblatt's artwork, please visit:
www.KarenZukRosenblatt.com
http://new.checkadvantage.com/karen-zuk-rosenblatt-bio
www.facebook.com/ArtByZuk
www.zazzle.com/ArtByZukCreations